It's a pleasure for us to officially announce Leigh Greenwood of 5th Point as advisory board member at JGID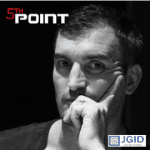 With experience of 20+ years and an impressive list of qualifications Leigh brings a depth of knowledge to our team that is unmatched. We are honoured to work with him
With operational rope access experience spanning the last 20+ years he has undertaken projects across a range of industries around the world.
Active in the international rope access sector through his involvement with IRATA International as well as having undertaken projects across America, Europe, Asia, Middle East and New Zealand.
Leigh has extensive knowledge in the development and implementation of rope access systems, including: human resources management; equipment selection, advice, training and inspection; creation and implementation of rope access specific policies and procedures; and development of risk assessment methodologies through to their practical implementation (such as SWMS and pre-start talk processes).
Leigh Greenwood knows Rope Access better than most.
See the video below with Leigh discussing tracking equipment with in JGID