SOLAR BUSINESS MANAGEMENT SOFTWARE
Job Scheduling Software
"Pricing is expected to remain tough over 2017, with industry bellwether First Solar predicting panel installation declines of about 9%. The weaker demand and pricing could potentially cause a shakeout and bring about consolidation in the solar installation market, along the lines of what was witnessed back in 2012, with highly leveraged firms coming under stress."
Forbes Report January 2017
However, increased efficiencies in the administration and running of solar installation companies parallels that of the mainstream roofing contractors market. At the core of maximising the profits for any contractor are your admin systems. The market leaders have consistently shown that the key to success lies in expanding market share, reduced cost of new business acquisition and efficient installation procedures. Tiles, Composite sheets or solar panels, the challenges are the same and the solutions well established. You just need the key.
JGID have encapsulated this key in our business management software, it leads with industry best practice. It automates the time consuming compliance tasks by producing your SWMS, JHAs and PPPSs in the back matrix while you write your quotes. JGID maximises your profits in hundreds of small automated processes; producing automated 'pick-lists' for the field staff, enabling GPS confirmed Worksheets and DLS via staff smart phones. Schedule multiple sites and teams with ease, manage your business 'on-the- go' and make informed judgments with all the information available via your mobile 24/7.
FULLY INTEGRATED BUSINESS MANAGEMENT SOFTWARE
JGID WILL SIMPLIFY YOUR BUSINESS
JGID is the industry's job management software of choice because it is a fully integrated single business software from CRM to Quotes to job scheduling to Invoicing and all the many stages in-between.
Whether you are a small team with ambitions to grow or a company with separate State offices and dozens of field staff; JGID is the one system that grows with the scale of your business.
You don't need to buy extra modules or make various Apps try and work together; it is one holistic solution. Cloud based and multi-platform from Android to Apple.
As your needs become more complex, so you can drill further into JGID's capabilities, ISO registers, no worries, inter-State Regulation variants, no hassle, seasonal variation in sub-contractor workforce, bring it on !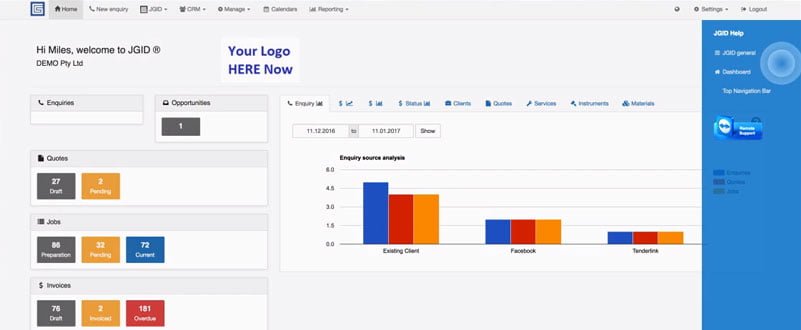 Choose the Best Price for You
JGID job management software is ideal for all service industries. We offer a range of packages that are designed to suit the size and needs of your SME. Check out our current pricing and request a free demo to experience JGID in action.