JOB MANAGEMENT SOFTWARE FOR CIVIL ENGINEERS
Civil engineers are proud to create infrastructure that allows our high quality of life; it connects businesses with customers, enables access to education and healthcare and links our communities. However, as society grows ever-more dependent on these systems we must ensure they remain resilient. The potential benefits of smart infrastructure and improved data management have been widely publicised but they should be designed so as to not compromise resilience."
Craig Davis, ICE Institute of Civil Engineers 2016
This is the opening remit for JGID, no matter how well educated your engineers, sophisticated the designed solutions and capable the plant and drivers. Being a great engineer and designing solutions is not all that is required to run a profitable civil engineering business. There are established protocols and procedures that ensure each of the administrative functions you perform are carried out to maximum, effectiveness and efficiency. These are the processes the successful companies learn and adopt; they are the systems the 'also-rans' ignore.
EFFECTIVE & EFFICIENT BUSINESS MANAGEMENT SOFTWARE
SIMPLIFY YOUR BUSINESS
Our skills at JGID have been concentrated on automating the time consuming admin functions such as writing quotes and SWMS, JSAs, PPPS etc. In JGID these compliance documents are built by the software as you write your quotes. We've automated the pick lists, the scopes of works etc. and all to run via the 'Cloud' so the data is accessible wherever you need it, simultaneously by field staff and management. Timesheets, daily labour summaries, GPS logging and digital customer authorisations are the norm for JGID; these are updated via smart phones and tablets from the field or the office. JGID is not limited by platform, be it Android, Apple or Microsoft. There are no boundaries to JGID; encapsulate your gas companies site specific forms, put your construction company, site work statements or plant operating instructions into the hands of your field staff via their phones. ISO compliance, inter-State regulations ?Just talk to us we have it all.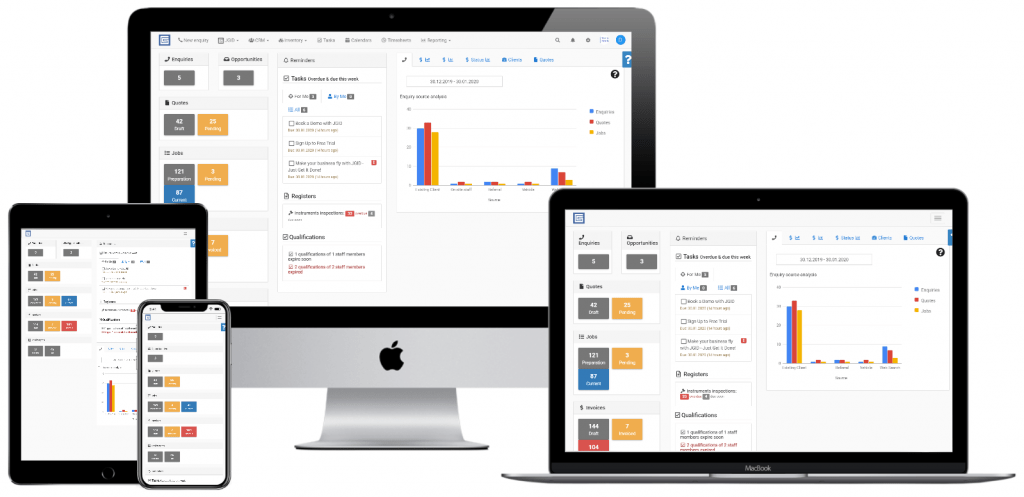 To effectively and profitably manage a modern business requires lean management, rigorous attention to detail and boundless commitment to the management of change. JGID is the industry tool that puts this power in your hands.
Choose the Best Price for You
JGID job management software is ideal for all service industries. We offer a range of packages that are designed to suit the size and needs of your SME. Check out our current pricing and request a free demo to experience JGID in action.