ISO & Irata Consulting
Address:
Office A3, 1-3 Rodborough Road, Frenchs Forest NSW
2086
Long Business Description:
The certification process requires you to take a look at your business in ways you may not have before. If you're serious about success, looking objectively at your business can prove invaluable.
Our mantra remains firmly embedded in the belief that improvements can always be made.
At Best Practice, we're committed to innovation and education. Your journey with our team will be one of discovery and learning. It's more than just a question of whether or not your business is compliant – we provide findings that add value to your business, not 'just ticking the boxes'. After all, every business is different.
So why not contact a business that exists to support your improvement journey and inspire customer confidence in your business.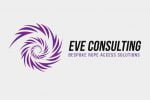 Address:
Sydney, Australia
Long Business Description:
After identifying the need for independent consultant services in the rope access industry, Eve Consulting was founded in late 2018. Specializing in IRATA International membership requirements and compliance, long term business development of rope access documentation, internal audits, and gap analysis.
Consultancy projects undertaken include the creation and release of client-specific capability statements, development of existing client capabilities, equipment inspection and maintenance services as well as consultancy for the design and implementation of access solutions or complete custom rope access and working at height systems.