Collection Consultancy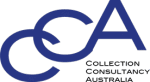 Business Name:
Collection Consultancy
Long Business Description:
Firstly, about CCA COLLECTION CONSULTANCY AUSTRALIA (CCA) is a credit management specialist Company. CCA act with a difference in the debt collection industry. We are not out to make lavish predictions or to use buzz words. These just confuse you or excite you. We want to help you. CCA make what is generally a stressful subject as manageable and as seamless process as possible.
Our Director, Greg Trappett has been in the industry for over 20 years. Working with Publicly Listed Companies, Major Corporates, SME, working within a (Publicly Listed) agency. But more importantly, sole traders, commercial recoveries and SME Businesses. The most common thing he has found in debt collection is poor paper work, poor processes or lack of understanding.
We plan to assist you with making sure all of those bases are covered and that in the future you can be more certain of being paid. Plus having the ability to recover should a client not do the right thing by you.